Tasks
Content Design Strategy
Icon Development
Template Design



Language: EN | DE
Katharina Liedl – User Advocate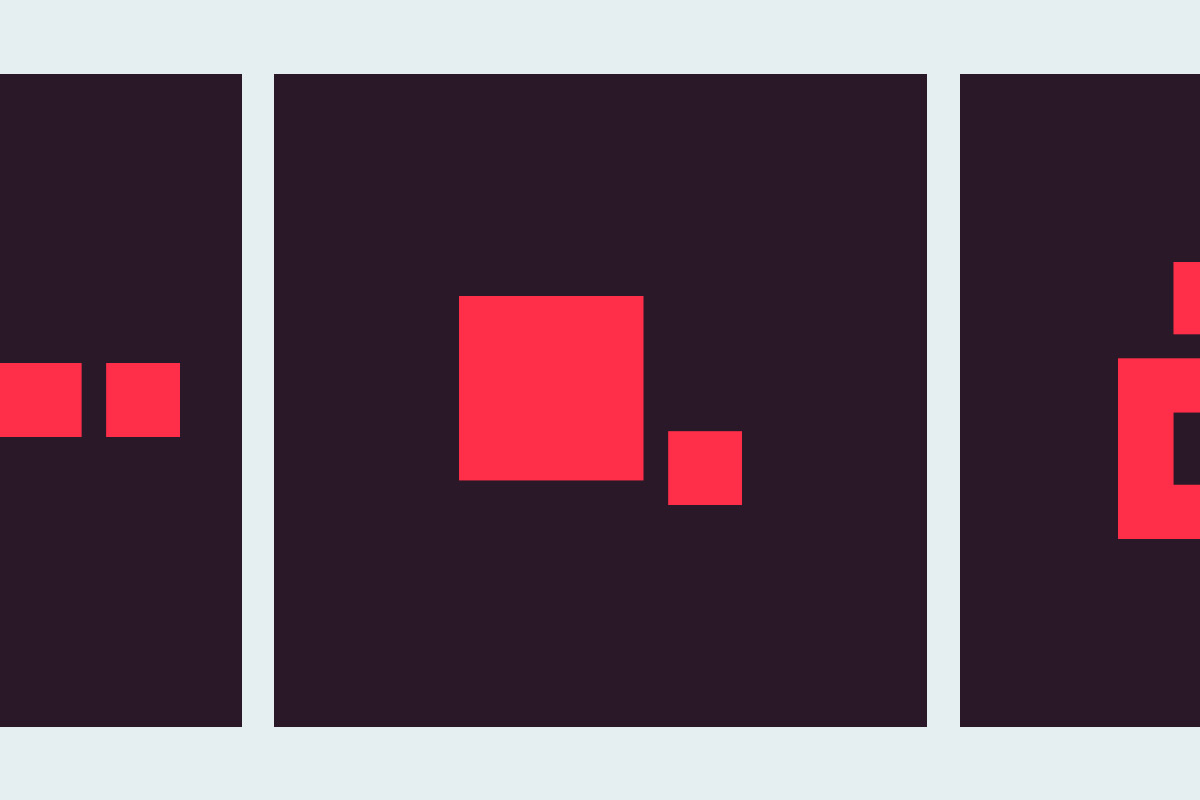 The client
Katharina Liedl is Product owner and UX expert, her tasks in product development focus on being the voice of the user. Her specialties currently include UX-Writing, UX-Research and Requirements Management. Her main clients are software companies who need expertise in User Experience.


The problem
After many years of expierence as an employee, Katharina starts her own business for which she doesn't have any visual branding yet. Even though she still needs her favorite company name have checked to enter it later, she's already quite busy in the mentioned fields and needs a few visual tools to start with.
When it comes to her own online presentation, her main focus lies on LinkedIn, a social business platform, where she already built up a strong network for active exchange. On the one hand, her LinkedIn profile should reflect her personality and her activities, while on the other hand the shared content she provides the network, should appear in one pour. The visual elements developed for this should work for all applications following in the future – even if no company name or logo already exist.


Question no. 1

Hen or egg – do I need to have a logo in order to start creating a Corporate Identity?
Due to the fact, that the logo or the name of a brand represent the face of a company, it only seems natural to develop those important assets at the beginning of business birth. So this question absolutely got its thrill and justification. The logo is a fixed component in a coherent identity and its whole appearance deeply intertwined with the rest of the design assets for a brand. Besides of that it shows up as the core element of a Corporate Identity that shouldn't change for a very long time (or never). But who said that the development of the logo always comes first?
Because Katharina has already built up a certain name recognition without a logo or brandname, it's definitely legit to concentrate on her digital performance as a person. If the visual elements, such as fonts or colors need to change later on, shouldn't bother us too much for now. Ideally, this won't happen anyways.


Actual state
Katharina Liedl shows up on LinkedIn with her profile image that's already a professionally taken photograph.


She still needs the basic assets for LinkedIn, such as a header and an update of her profile image, as well as the design for regularly posted slideshows. Those should share some tips and knowledge in small bites with the community. She wants to be able to create them on her own so that she doesn't need to ask a designer every time she got new content to do this for her. That means, she needs templates that can be used by a design amateur.

In an online workshop we work out together how Katharina wants to be presented and what attributes she would or wouldn't like to be connected with. We also talk about colors and she sends me images of a color fan she likes to use for different private color choices.


Katharina explains her different fields and activities to me, and that they could be extended at anytime. We both agree on the most urgent branding elements she needs and on which we could work on later on.


Question no. 2

What repeating elements should be developed and how flexbile are they?
The posts Katharina wants to share in the future, should appear as slideshows. Out of her field of activity result three categories. All of them origin in similar fields, but they should distinguish visually. The amount of text varies from slide to slide and other elements of content should be as flexible as possible: Images, graphics or different text elements will be needed.

To be able to distinct the three categories, I develop three different symbols in form of icons. Their design is so flexible, that they can easily be used by Katharina and their range can easily be extended as well. Each icon can be turned in 90-degree-angles, reflecting the change of perspectives, coming with the work with Katharina.





To guarantee a level of recognition and the possibility to create diverse slideshows at the same time, there are three different colors chosen for fonts, background and highlights to be used in Light or Dark Mode.



Additionally there are two fonts chosen that build a good contrast between technical-factual and playful-informative. The usage of the fonts gets tied to a few rules that can be easily remembered by Katharina.

Katharina's LinkedIn profile gets adjusted to the new visual language: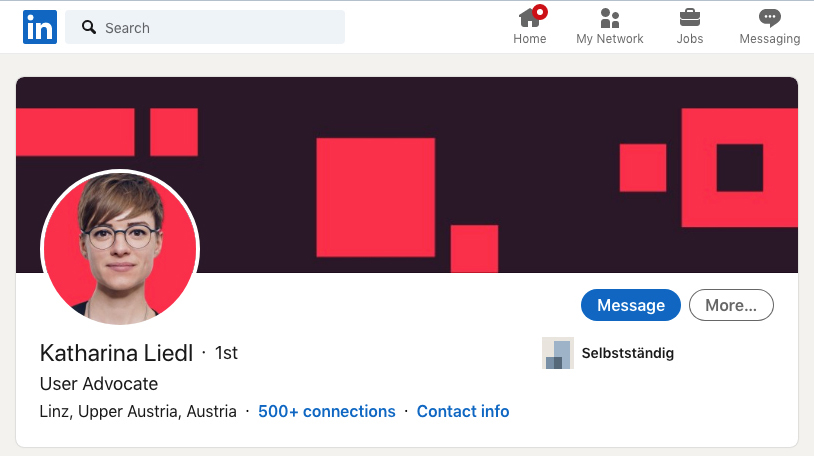 Question no. 3

What tool enables to create new contents without a certain design knowledge or a big budget?
Common layout software for designers isn't cheap nor easy to use. Thus it's hardly reasonable to use it for template creation for somebody with limited time or money resources and little design knowledge. An interface between design and content, that's easy to use, affordable and at the same time efficient, is needed.

In the social media often mocked by designers, the free software Canva generates sensation through some fresh memes regularly …


How's the saying? Envy has to be earned: This application does not only function on the smartphone, but on the computer as well and enables people without any design education and without a lot of effort either, to produce quite acceptable contents for social media and more. With a generous selection of different templates and many open source fonts, the DIY principle hits the creative world with this app in a way that it doesn't necessarily need to look cheap anymore. Besides of that exporting and sharing of the drafts works in an intuitive and flawless way.

So it's just perfect for our interest to use it for our own templates. In the free version you're not allowed to save your customized templates, but your design drafts can be saved and duplicated or changed at any time. Furthermore you're able to create teams, so that Katharina as a team member only gets shown those designs she should be using.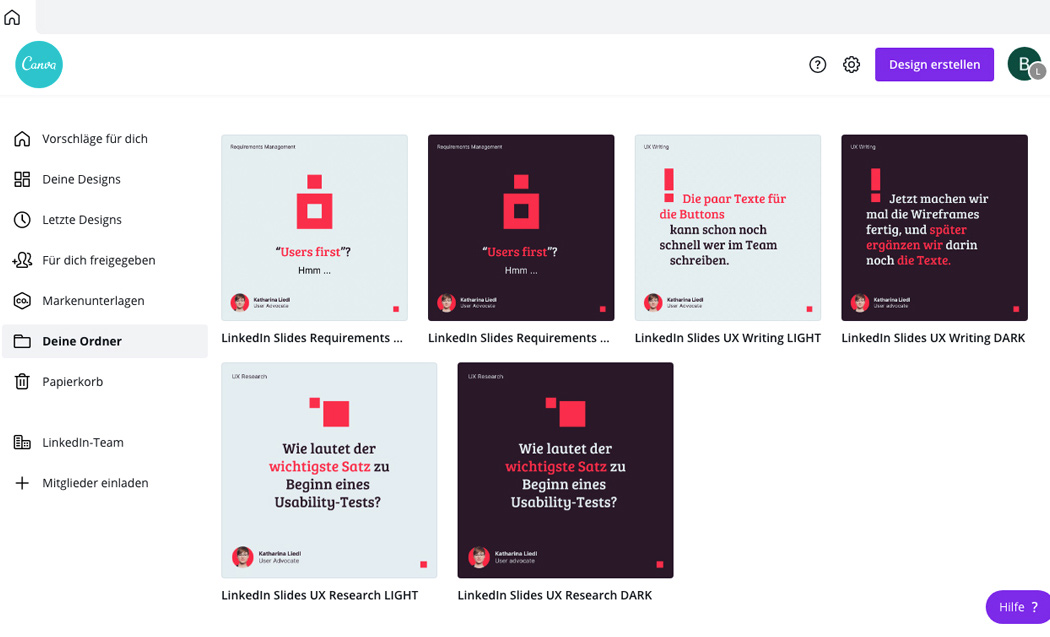 Katharina shares her first slideshow-contents in a google-doc with me and I start to create different content elements. When presenting her the first drafts we talk about further possible potential elements, such as diagrams, bullets and the like.


Question no. 4

How many rules does it need to make sure a smooth usage of the templates and how are they gonna be used actually?
Since it's the first time I am using Canva for creating templates I do not have any knowledge about how much explanation would be needed afterwards and so I am creating a small manual in which the most important rules are explained with the help of screenshots. If that would be enough I could only tell by testing the templates with the user. For this purpose I invite Katharina to another online workshop to show her the new templates and the frame in which she's allowed to work. After that I kindly ask her to create her own first contents with the templates.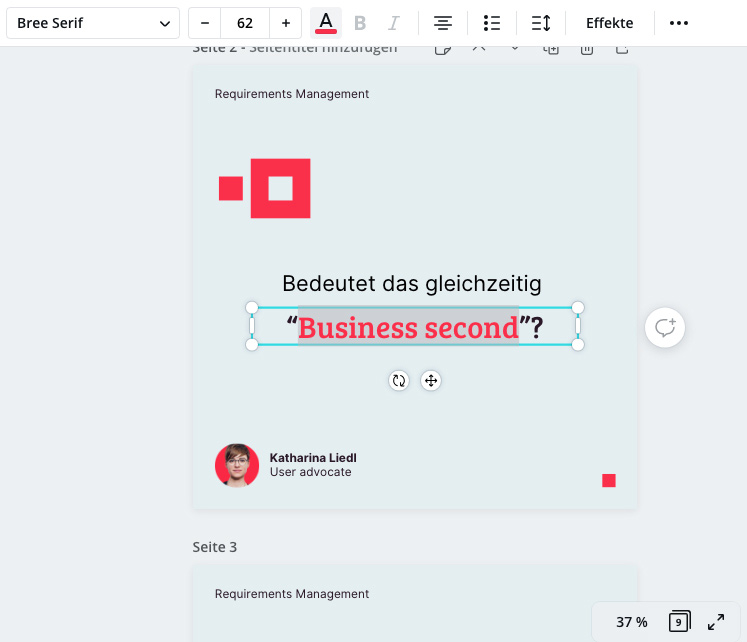 Following her in this process shows that for her it's the most practicle way to only exchange some text and not to care too much about position or style. The slides already containing special elements such as quotes or highlighted questions help her a lot. Without working on the different kind of contents at first, there would have been a lot of post-production needed. Because the editing process of Canva is very similar to the common presentation software from Windows, Katharina uses the application trouble-free and can easily estimate how long creating future slideshows would take her.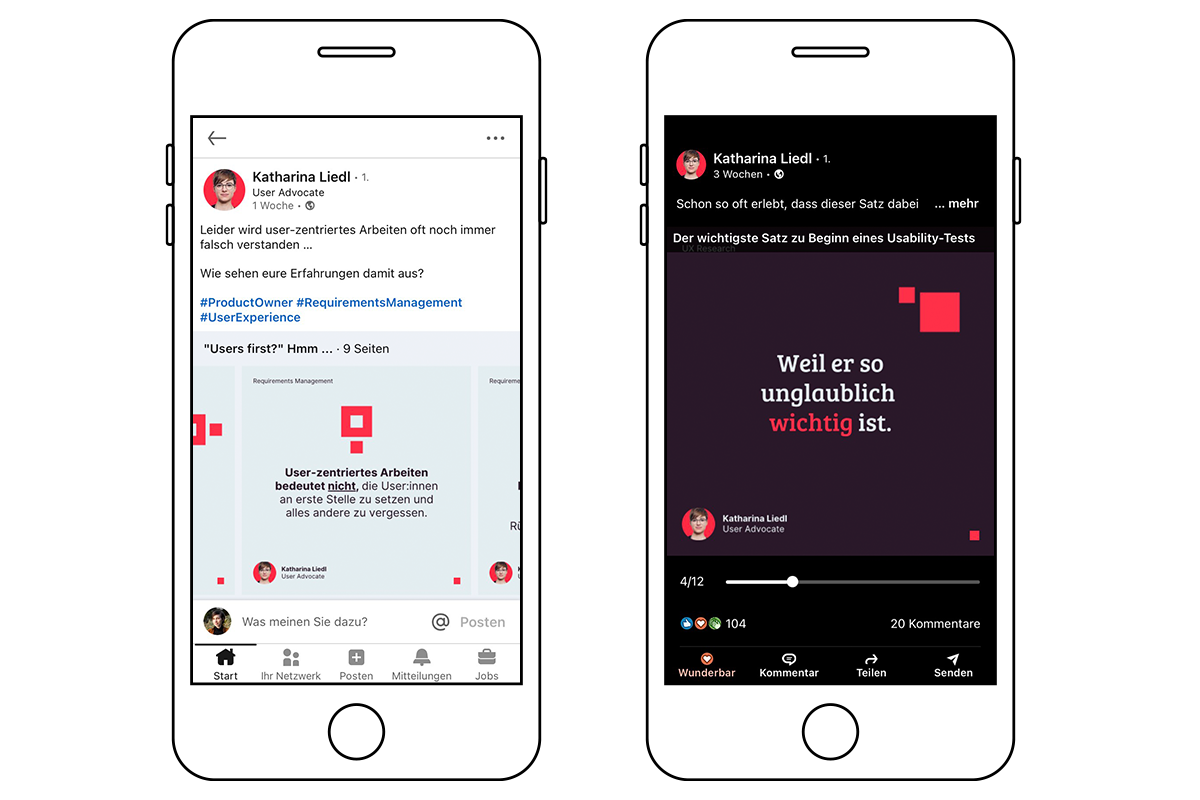 Conclusion

Experiments widen the (design) horizon
The beauty in this project lies in the corporate development of the design. Through the workshops and open discussions between the design stages there was a flow of new questions and solutions coming up just if by itself. And before the templates got ready to use, Katharina was able to use the already developed color scheme and design vocabulary in a presentation about UX writing in an online meetup without any help from my side.


The developed "tools" served their purpose: They are flexible and easily applicable, framing the work of Katharina in a seamless way.

The use of Canva was risky, but despite all the preconceptions it turned out to be the best decision for this project and in the end a big learning into several directions. If a software is able to help people without a designer's education to create beautiful content, then designers do not need to demonise it, we could use it for our own projects instead. For more complicated or more specific needs we will be employed anyways and with the templates that Canva offers its users, some design colleagues did a really good job and made the world of social media a bit more beautiful.

You can find the LinkedIn profile of Katharina Liedl under
linkedin.com/in/katharina-liedl

Still got questions about this project?
I'm always happy to read your message.
Write me on LinkedIn or send me a lovely email!