Tasks
Brand Strategy
Logo Design
Corporate Design



Language: EN | DE
abejita yoga
The challenge
Sabine Wagner, nickname Bine, finished her training as a yoga teacher and gives classes to friends and family. For the long plan she wants to change her hobby into a side hustle and needs a visual identity for her work as a yoga teacher. Thinking ahead, she'd like to define her brand identity and get it created before the official start. In this way she can fully concentrate on her work later and decide everything needed therefor in a mindful and stressless way. This kind of starting conditions for a project are from very high value for me as a Designer. Working in the creative field without short deadlines enables to think deeply into the details and think through the whole process with a lot of care. Having more time for a project increases the potential of a solid stable foundation highly and possible improvements or changes afterwards get reduced to the essentials.


Starting material
Like at any project start I ask for a first detailed conversation. Thanks to that I can learn more about the work of Bine, her ambitions and her vision for the brand. We talk about the scope of the project and further possibilities for the future of abejita yoga.
Bine already chose the name of her brand ("abejita" is the pygmy word for bee in Spanish, and bee in German is "Biene") and got a rough idea of the color range of the brand and would love to see the name of the brand within the logo itself. She already tried online to create her own logo and shows me the drafts. Thanks to the big amount of information I can create myself a good picture of how Bine's teaching works, what she likes and what she identifies with.



The first drafts Bine did for her brand


Logo development step 1
Research
After we worked out the core of the brand and its core values, I start my research. Therefor I also ask the questions how bees look closely, what they do and why the lotus flower represents such a strong element in the yoga field. Next to finding answers to many questions I created a first moodboard for the brand abejita yoga and put parts of it into my presentation of the first logo drafts later on. With this moodboard, first possible color ranges get born.


First color combinations


Logo development step 2

Scribbles und first drafts
On a longer train ride I start with some first scribbles, which I develop further on the computer. My handdrawn ideas I do not present, they only help myself in the creation process and would most-likely scare the client.

The first three drafts are going in very different directions, but all of them contain material from our meetings and the ideation phase. Without knowing about the values and the philosophy of the brand beforehand, I would have to start creating "blindly" and expect the client to reject all of my drafts. I meet up with Bine again to show her my initial approaches personally, what gives me direct feedback and the possibility to talk about the process face-to-face.


First quite different three drafts
Logo development step 3

Excluding drafts or refining them
Within the presentation of the first drafts I get direct feedback from Bine, which shows what direction to follow. Afterwards I send Bine the presentation as a PDF so she can review the drafts alone as well and check out how she feels about them. More detailed feedback follows later via email and helps me in my upcoming work on the two favorite versions. Those two I refine or adapt in their colors or shape and add new versions to present them once again in a personal meeting.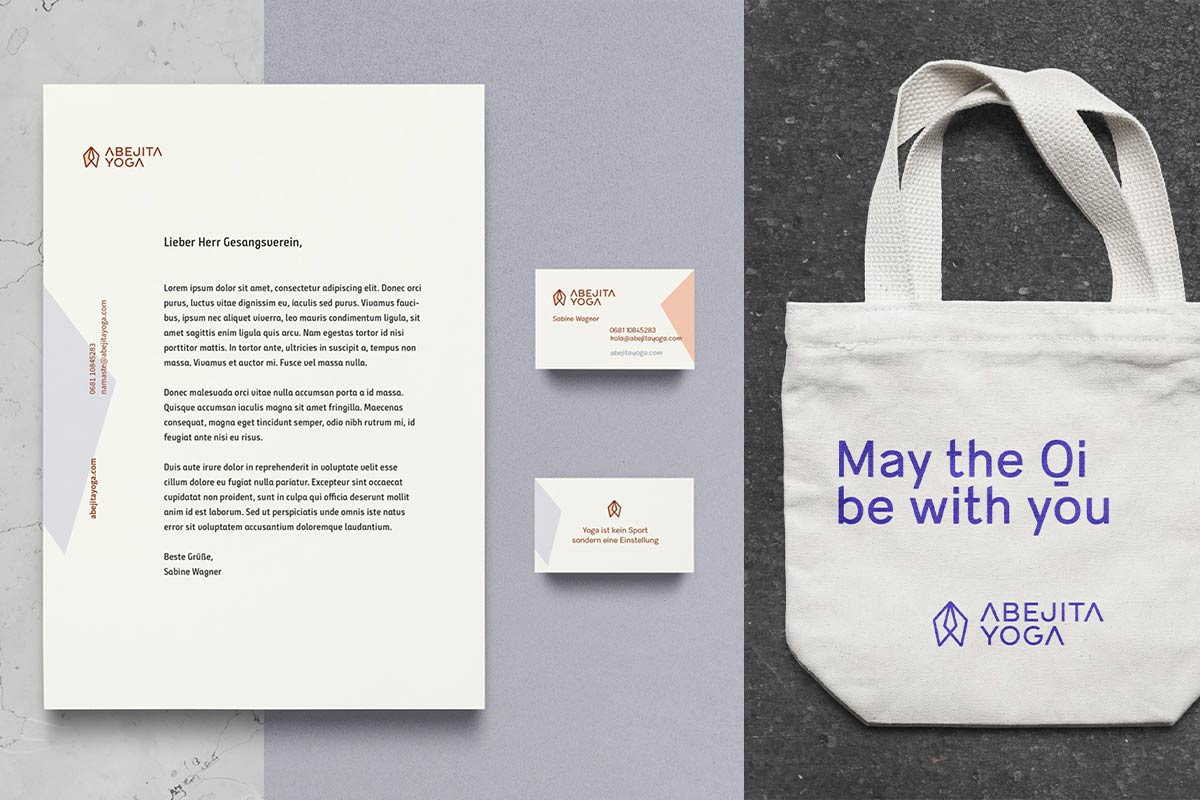 New versions in different mockups and colors
Logo development step 4

Finalising the logo and selecting a font family
After the second meeting it gets clear what versions are still needed to be able to decide on a logo. It's only a question of color combinations and small details like adding or deleting an element. In this stage the style of the logo is already defined, so I am able to come up with some first combinations with different typefaces as well. Every brand needs its consistent typeface. With the new logo versions I can create some layouts with some text and see how that plays together.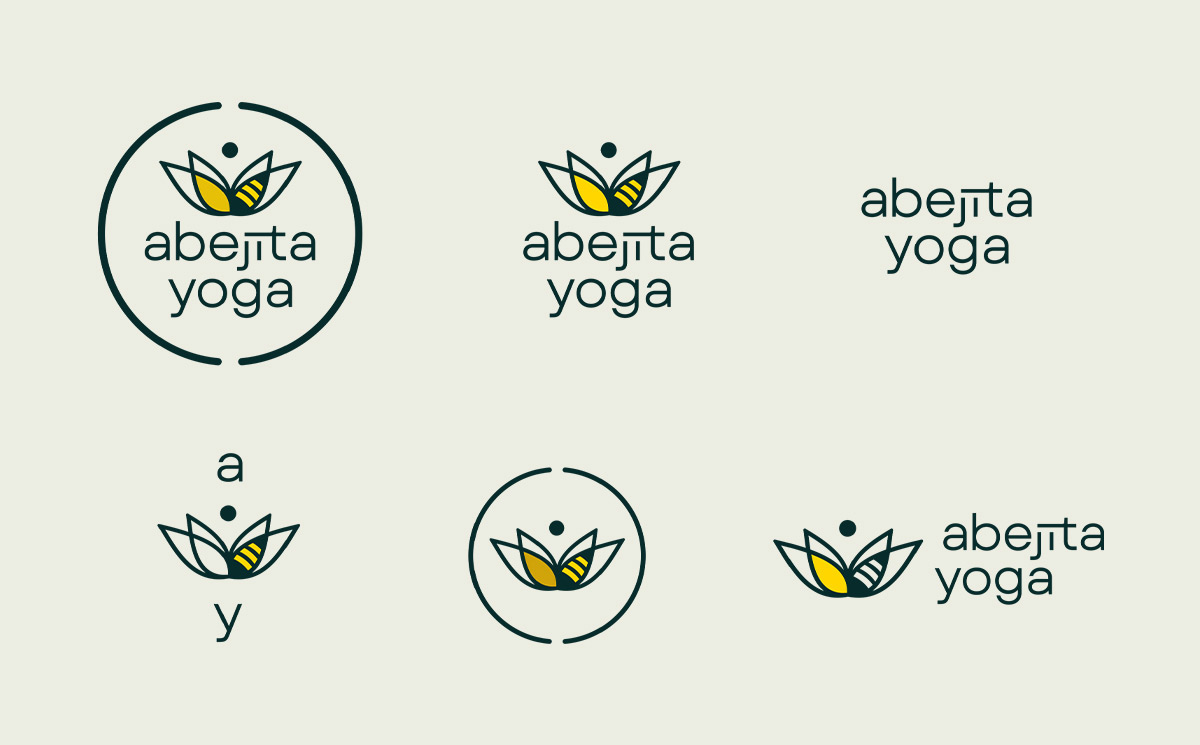 Last color combinations for the final choice
Logo development step 5

Final artwork, data preparation and working out a design manual
With the final decision for a logo version I start finalising it, create the final files and prepare all the currently common data formats to hand over to the new owner of the logo. To make sure that the usage of the logo is not only clear to me, but to my client and everybody she might give the logo to in the future as well, I work out a Corporate Design Manual. In this manual you can find explained everything that seems necessary to understand how to use the brand to make sure an ideal application. The design manual works as well as a support of the brand presentation in an advisory way. It's meant to grow continually, new developed brand components such as business stationary can be added on the run. Working as a handbook, the corporate design manual is an important tool for the start of a new brand and its future development.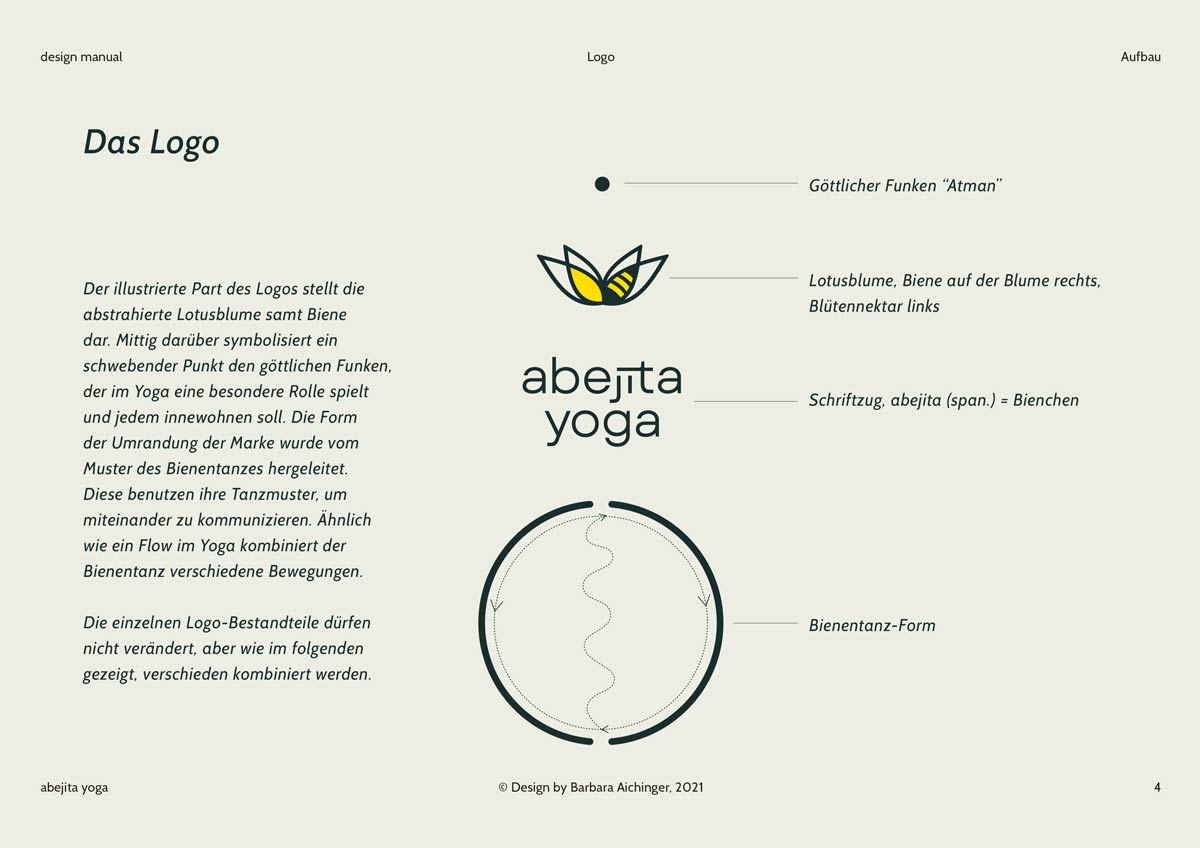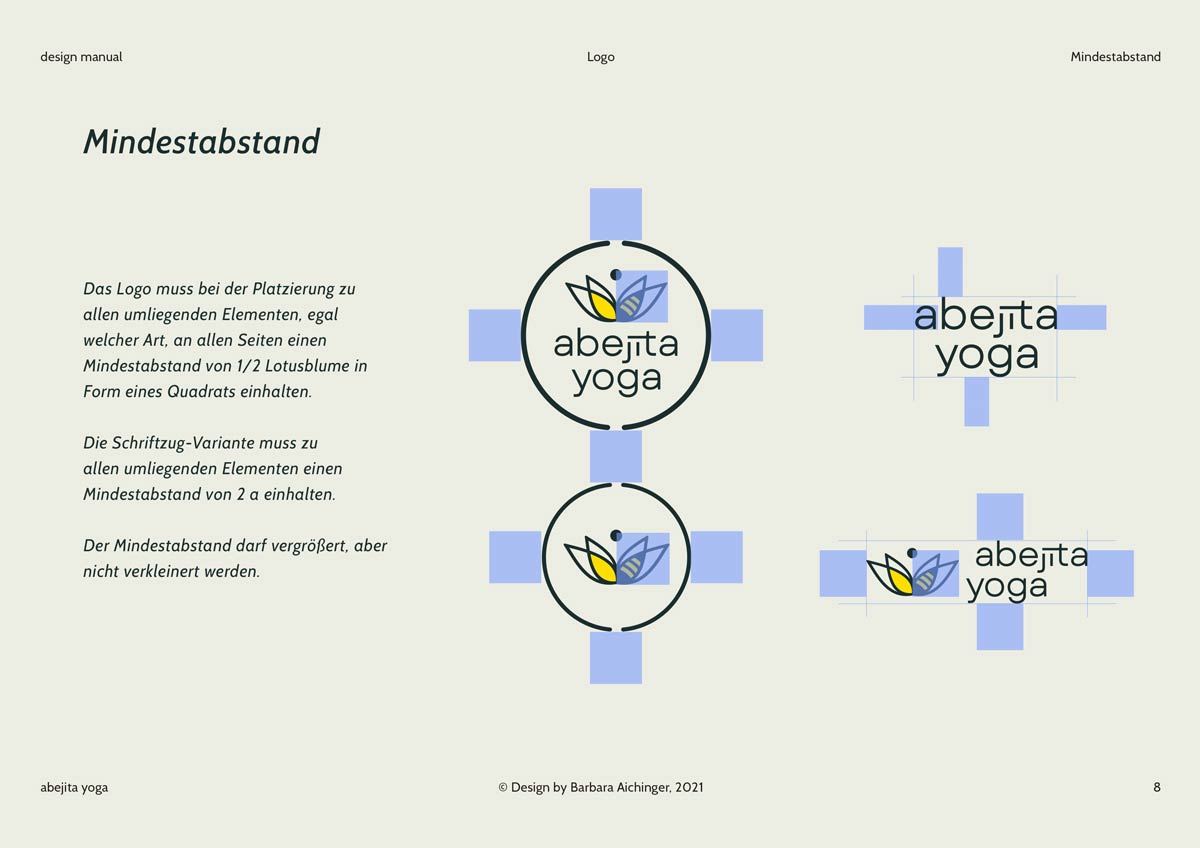 Some pages from the Corporate Design Manual
Logo development step 6

Final meeting
I'm showing the CD-Manual to Bine in a personal meeting to make sure everything in there gets understood and approved. After this final meeting in which we talk about next steps for the brand development I send her all the logo files and the manual as a PDF.


You got questions about this project? Feel free to contact me!